We're a pretty literate and art-loving family. We have shelves of books and records that line our walls. We encourage creativity and like visiting museums and galleries. The kids take piano. You know, that kind of thing.
But we have also been having a great time enjoying sports as a family.
We just came off a summer that was filled with t-ball tournaments and practices and games and watching the Jays on TV. Hockey is starting, too, and both Colum and Irene play. (Mary demands to know when she can start too.)
So we jumped at the chance to go to a blogging event at the Toronto FC last weekend, rounding out our Toronto live sporting event checklist nicely. Leafs, Jays, Argos, Rock, Marlies, the baseball Maple Leafs, and now the TFC. Checkity, check, check.
I really love that BMO Field is in the CNE grounds. It brings back childhood memories of watching Jays games with my dad and brother in the cheap seats before hitting up the midway rides while the Ex was on. We found street parking in Liberty Village and walked through the tunnel from the Go Train station to get there. (But it was a frenzy of happy TFC-fan madness squeezing back out through that tunnel, so heads up. Be prepared to duck out early or to wait it out if you take that route with kids.)
Of course, our event had a few special perks.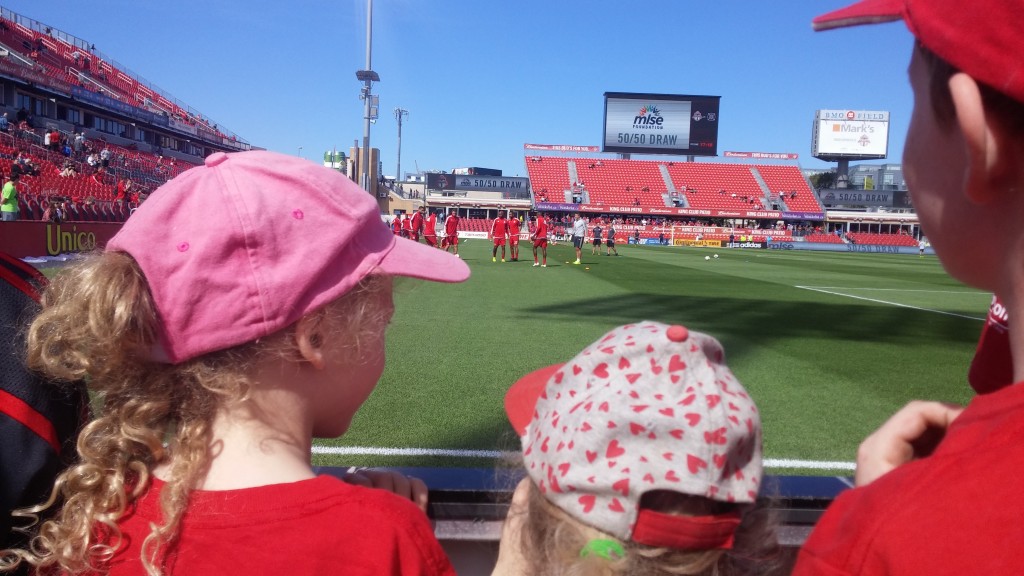 We got to check out the team warming up at field level.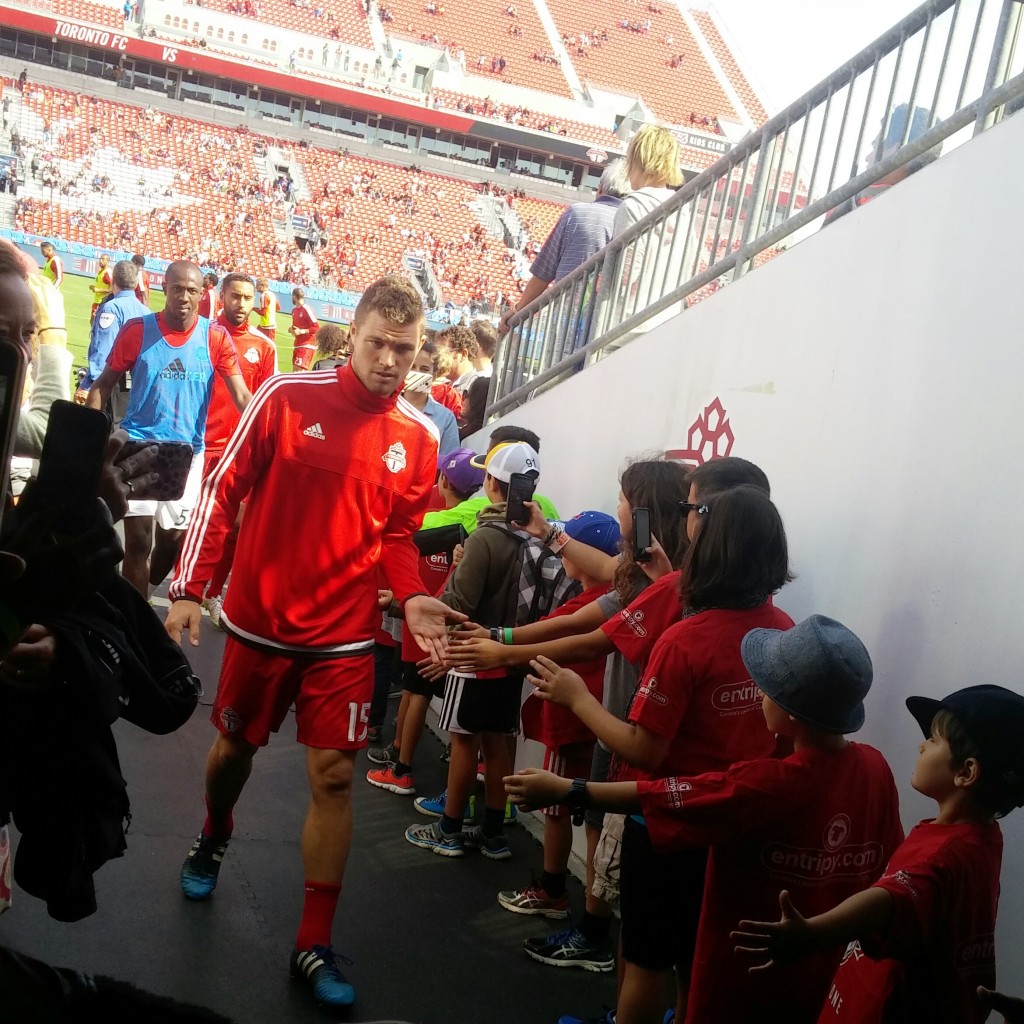 Then there were high fives in the players tunnel. (Little Mary was SO into that.)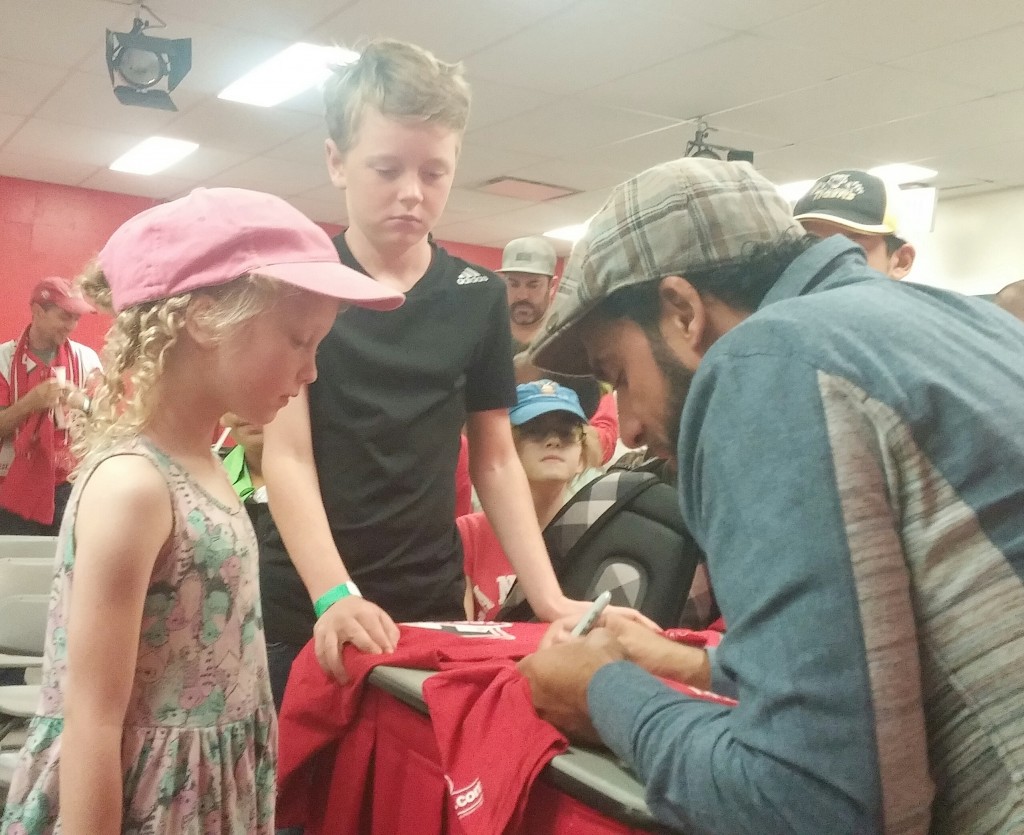 Meeting the TFC and the Canadian national team's all-time leading scorer, Dwayne De Rosario.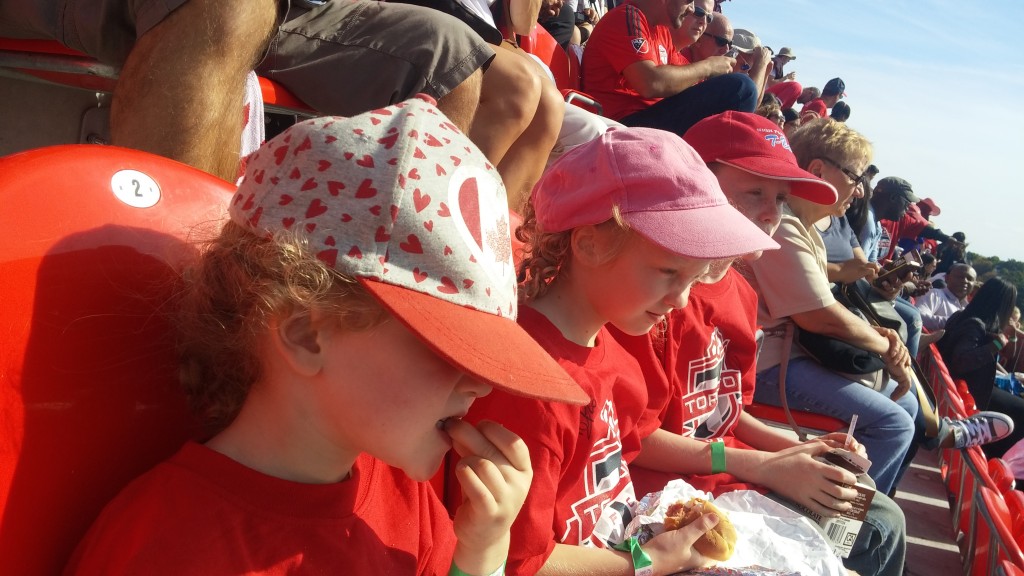 Then there was watching the game itself and noshing on foot-long hot dogs and giant soft pretzels.
My personal highlight was when I asked Irene if she wanted to help me get some food at the concession stand while the game was on and she looked torn. "But … I don't want miss any of the game!" That's my not-quite seven-year-old girl. Of course, Mary was eager to come help me which was really no help at all.
If any of you are TFC fans and want to get DISCOUNTED TICKETS for either the October 14th or October 17th game, listen carefully. Follow this link to order your tickets and then enter the promo code KEENANTFC. Then have fun!