Mary Elizabeth Keenan was born at home on Monday, September 12, 2011 at 6:37pm. She was 7lbs, 1oz.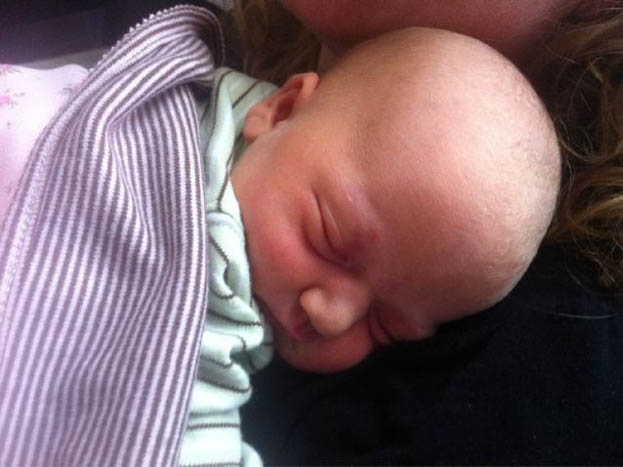 Here's how it went down:
I didn't want to over plan this birth. I didn't have a play list to labour to or a special outfit for the baby. I didn't even know if it would be at home or at the hospital. I planned only to keep things flexible. We'd prepare for a home birth in case it seemed best to just stay put, but also have a hospital bag packed if that was the thing to do. However it unfolded would be okay so long as we ended up with a healthy baby.
The only thing I was counting on was that this baby would be born sometime after 38 weeks gestation. Both of my other kids, after all, were born just a couple days before their due dates. Likely this pregnancy would follow suit. So I had planned, you see, to spend this very week right now meeting some last minute deadlines and working ahead of schedule to give myself some time off when the baby arrived. I would write as much as possible now that the school year was finally underway and continue to slowly organize and nest in preparation for the baby. Then, next week when I had nothing but time and energy on my hands (heh), I would write out Colum's and Irene's birth stories (since I never did get around to that) and start psyching myself up for the birth.
Ha.
Instead I woke up to very mild, rhythmical contractions at 5am on Sunday, September 11. They weren't strong, but they were annoying enough that I couldn't get back to sleep. So I woke up, tweeted about these silly contractions that couldn't possibly amount to anything because it was three weeks early, I was far from ready and it was September 11. I took a shower and sure enough, everything seemed to stop. Phew. I decided to try to catch a bit more sleep before spending much of my day writing as planned. On the way up to bed I threw a load of newborn sleepers, onsies and receiving blankets into the wash just to cement the deal. Clearly I wouldn't go into labour if I was actually prepared, right?
I lay down around 8am, told Ed that I needed to sleep in a bit, and felt myself finally drifting off to sleep when another oh-so-mild, is-it-even-there, Braxton Hicks-type contraction started to wash over me. And then I felt a little pop and a gush of warm water all over my legs and bottom and dammit, I just washed these yoga pants.  Ed grabbed me a couple bath towels which I soaked through almost immediately and then I waddled over to the bathroom to figure out what to do next. Colum was just getting up and I told him it looked like the baby would be arriving today. He was so excited, and I realized this wasn't the worst thing ever.
We basically swung into action then. I shoved a size-four Huggies diaper into my pants and called the midwife who said labour was likely to begin in a couple hours and that we didn't need to forget about the possibility of a home birth just because we hadn't gone shopping for supplies. My parents came to pick up the kids and I dove right into the laundry — baby laundry and also fresh bedding for our new-ish king-sized bed. We washed and folded and moved furniture around (well, Ed did) and made trips to the drugstore (also Ed) and otherwise frantically got ready for labour and a baby until about 4 or 5pm. Huh, still no labour.
So then we waited. (We may also have walked over to the local arena to pay for Colum's hockey registration. That's a normal pre-labour activity, right?) And we tweeted about our waiting mostly. You know, things like, "Still waiting!" and "Watching TV now." After 32 hours of waiting and, uh, a hashtag (#Keenanbaby3 thanks to Emma Willer's not-entirely-serious suggestion) it turned out quite a few people were anxiously awaiting news of the birth. Who knew? This is also the time period during the birthing process in which your husband is most likely to take pictures of you and then post them to the internet without your knowledge. Heads up.
Oh, and if anyone is wondering whether the body really does continue to produce amniotic fluid after premature rupture of the membrane, the answer is yes, oh yes it does. An attempt at an evening walk along Dundas St. W. was cut short when the baby's head, which must have been acting as a sort of cork, got jostled around and a fresh stream of fluid started dripping down my legs. Thank god it was dark. And then the same thing happened the next morning on a trip to Shopper's Drugmart that sent me running to the full-sized lady diaper aisle for some proper effing coverage.
We were actually at Shopper's to buy castor oil because after discussing my options with the midwife I decided that neither waiting another possible three days for labour to start on its own or going to the hospital for an intravenous oxytocin drip sounded very good. They both sounded bad enough, in fact, that induction by castor oil (read induction via explosive diarrhea) actually sounded like something I wanted to try. So there we were buying castor oil and lanolin and orange juice and grown-up diapers and refilling my synthroid prescription because for the love of god can nobody ever just walk out of that store with one thing?!
We then popped next door for some McDonald's breakfast since, hey, whatever I ate wasn't meant to stay in my body for very long, so I might as well. (Also, coupons.) As soon as we returned home I drank two ounces of castor oil in a big glass of o.j. (Fine, it was Five Alive — like I'm going to spend $5 on real juice just to mix it with something that tastes like Vaseline.) I waited an hour, did some of that work I had hoped to do the day before, and then took another dose. Nothing. I worked some more and then took the final one ounce of castor oil my midwife said most people don't get around to taking since they are usually already in the throes of bowel cleansing. Still nothing.
I ate lunch, talked to my midwife and decided to take one more ounce of the stuff and give it another couple hours. I started doing laundry again.
Finally, around 4:30pm — over four hours after my original dose of castor oil — I had my first real contraction since my water broke. This one put the ones I'd had the day before to shame, but it still wasn't totally serious. I went to move the clothes from the washer to the dryer and it is a very good thing indeed that we have a bathroom off the laundry room. The castor oil was kicking in.
By 5:00ish Ed and I had moved upstairs and he was timing contractions while I laboured on and off the toilet. We talked to the midwife at some point who wasn't quite sure how active labour was. I knew it was on, but it was hard to tell the labour contractions from the abdominal cramps at times. Fun! She suggested we call back in 15 minutes and she'd get ready to go in the meantime. We did call back about 20 – 30 minutes later and now there was no doubt; this labour was in full swing. She said she was on her way but that Ed should call her if the baby started coming before she got there — she'd talk him through it. Whatever, I thought, we're not that far along.
She arrived sometime between 6:00 and 6:30 and I think Ed was pretty happy to see her. Again, whatever guys. There's time. The first thing she did after listening to the baby's heartbeat was to check my dilation to find out when the second midwife (not needed until the actual birth) should come. "Oh yes, she should come now! You're about six to seven centimetres dilated." Six to seven centimetres! Then it could still be a couple hours to reach ten, I thought. What's the hurry? (Never mind that it had only taken me an hour to get to seven — that didn't even occur to me.)
While the midwife went about setting up her gear, Ed went down to unlock the front door for the second midwife and grab some fresh air and I had about three whopping contractions on the side of the bed. Ed came back up and the midwife asked what position I'd been in for the birth of my first two kids. On my back both times, I told her. I had no choice for Colum since I was epiduraled up and I just couldn't be bothered to move after the midwife checked my dilation with Irene. "Well, you don't have to stay on your back this time," she said. Then I had the biggest mother of a contraction known to mankind at the end of which I felt an undeniable pushing sensation. "Pressure," I gasped.
"Get on your side!" the midwife instructed. "Now just pant through these contractions. Ha ha ha ha." Ha ha ha, indeed. Before I knew what was what my body was pushing all on it's own. "Pushing!" I called out. The midwife took one look at me and said, "Yes, you are. There's the head. Okay, let's have a baby." Then she made me roll over onto my back, of course,  and started giving Ed all kinds of instructions. "6:35," she called out. My body gave one big push and I did my best to hold back while the head was crowning and then her entire body was born and she lay wriggling and crying on my stomach. "6:37!" Two minutes. Two minutes of pushing! That is some wild, crazy shit right there.
Just then the second midwife came running up the stairs. "Oh no! There was traffic."
P.S. For all you birth geeks: she was born with a nuchal hand (ie. a hand up by her face) and I still managed not to tear. My first time with no stitches and it's pretty fantastic, I must say. There was also no hemorrhaging or even heavy bleeding despite the speedy delivery. Hurray for active management of the placenta! And even though this is my third breastfed baby and she was able to master a textbook latch within minutes of being born and is an eager and enthusiastic nurser, it still took a full three days for my milk to come in and she still managed to lose ten per cent of her weight before she started gaining. This breastfeeding business is never easy.