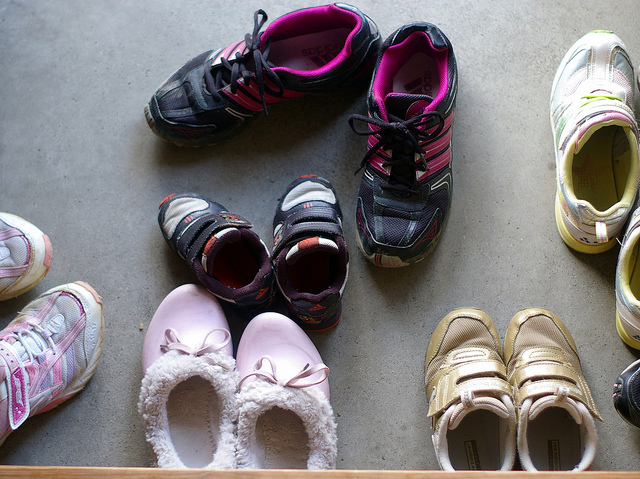 Image credit via Flickr cc license.
"Mom, my teacher says I need indoor shoes for school. Ones that haven't ever been worn outside."
HULK. SMASH.
This isn't my first time around the grade school block, so it's not that I'm surprised. It's just that …
ARRGH! SMASH! SMASH!
Every time I think about how utterly unnecessary it is for my kids to …
STILL. SMASHING …. OKAY. Now, I'm good.
Sorry 'bout that. I know from talking to other parents, and from airing out my grievances on Twitter last night, that you either completely agree with me and are in the midst of your own Hulk smash, or you think I'm crazy. So let me show you around my crazy.
First, you need to understand my absolute, undying, belief that good running shoes are the absolute, best, everyday shoe for growing kids of any gender. They need these shoes to participate in gym classes, but they also need them to support all the flat out running, jumping, climbing and playing they do all the time.
So my preference (and the obvious choice for most parents) is to buy each child one pair of quality running shoes at the end of every summer that they can basically wear all the time until winter. Then they will leave those shoes at school and wear boots to and from school until spring. This way I only have to buy one pair each per child per year of running shoes, winter boots, rain boots, sandals, dress shoes and assorted specialty items like skates, cleats and dancing shoes. I just feel like that's enough.
But no. Many schools (but not all), and some teachers (but not all) within schools where there is no official policy, ask that children also bring indoor shoes (that really have to be running shoes for gym) to be kept at school during the fall and spring. So, if I want my kids to have good running shoes for gym class and for outdoor play, that means two pairs per kid per year!
When I was a child, I cannot imagine the schools demanding that families provide two pairs of the same kind of shoe for their child. Honestly, at our school, kids were lucky if they had warm boots in the winter. Of course, we also ate peanut butter everyday and thought that juice boxes counted as a "fruits and vegetables" serving or two. It was a simpler time.
Simpler time or not, buying extra pairs of shoes is still a stretch for many families. That's, what, an extra $40 or $50 per child, that could go toward anything else. For a great many people that is money that would be better spent on groceries, rent, debt repayment, extracurricular activities, or things like books and schools supplies. For other people the extra cost doesn't require such a personal sacrifice, but that doesn't mean it's less wasteful. To be honest, this year we can find the money for a second pair of runners for our kids. We'll be all right. 
But that money could have gone toward further supporting our school's fundraising efforts, sponsoring a friend who is raising money for charity, paying down debt, saving for the kids' university educations, or helping a Syrian refugee. There are children in the world who have no shoes, but we need to buy our kids two pairs of the same bloody shoes?
That's double the number of shoes that end up in a landfill, too, because we can't bear the idea of wearing the same shoes inside and outside of a building. As I asked on Twitter last night, "When did we become so germaphobic that special inside shoes are always necessary?"
It's not about the germs, many people said. It's about the dirt. Okay, fine. Substitute "dirtaphobic" for "germaphobic" then. I think it's all part of a general societal trend for increased cleanliness and over-sanitation. It's a  trend, by the way, that scientists think might actually be making us sicker.
I mean, schools are public buildings that house hundreds of children all day, every day. Of course there's going to be dirt! You can make the kids change their shoes outside their classrooms, but there's still dirt in the halls. There's dirt in the stairwells. There's dirt clinging to their grubby little bodies. There's little bugs living in their hair half the time, for fuck's sake.
It's kind of like when parents insist on spoon feeding their toddlers for months and years on end to prevent a mess. You know what's easier? Letting them learn to feed themselves and then wiping everything down after.
I've also heard the theory that schools have cut back on custodial and cleaning services. I have no idea if that's right, but it does seem plausible. It does not, however, follow that the cost of keeping the floors reasonably clean should fall onto the shoulders of the families. Let the floors get dirty, I say! And then have them cleaned every once in a while. They are floors.
Alas, it not up to me to shatter the prevailing orthodoxies of our time. All I can do is get all the complaining out of my system. Now, if you'll excuse me, I have some shoe shopping to do.