Huge thanks to The Baby Show for sponsoring this post and letting me share all my best Toronto baby advice.  And don't miss the GIVEAWAY at the end! Lots of free tix to The Baby Show.
1. Which subways STILL don't have an elevator.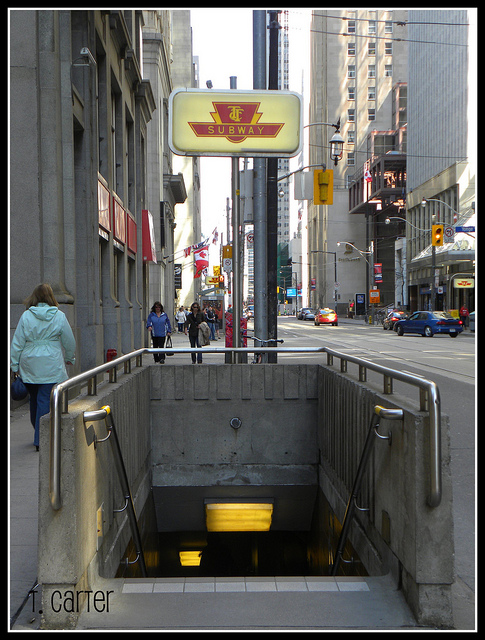 Image credit via Creative Commons license.
The TTC is working toward becoming completely accessible and is in the process of installing elevators in every subway station. This is a very, very, very long process and about half the stations are still without. We're looking at you:  Islington, Royal York, Old Mill, Runnymede, High Park, Keele, Lansdowne, Dufferin, Ossington, Christie, Bay, Sherbourne,  Castle Frank, Chester, Donlands, Greenwood, Coxwell, Woodbine, Warden, <deep breath>, Wison, Yorkdale, Lawrence West, Glencairne, Dupont, Museum, St. Patrick, King, College, Wellesley, Rosedale, Summerhill and Lawrence. You don't strictly need an elevator to get around with a baby (and please do let those with more permanent accessibility obstacles have first dibs on elevators), but they do make life easier and it's nice to know that you're facing a three-story-high wall of stairs before you load up your stroller with a week's worth of groceries.
2. The city will freeze over. You'll still need to get out of the house. Be prepared.
It's really, really, extremely easy to just stay home during the worst of the winter if you don't have anywhere to be. This is especially true when you have to juggle feedings and diaper changes and enough gear to survive an antarctic expedition just to have coffee with a friend. So give yourself somewhere to be. Schedule coffee dates, drop-in programs, grocery shopping or whatever. Getting out of the house is probably the single best thing you can do for your own mental and emotional well being.