Here's a fun holiday craft you can try.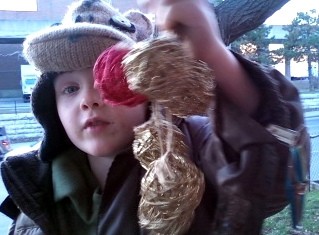 First you shape willow branches into the form of a ball. Paint and apply glitter.
Kidding! I got these at Dollarama. I thought it would be fun to hang them on the tree in the front yard since our house is older than dirt and doesn't have any electricity running to the outside. Not an exterior outlet for Christmas lights. Not even a porch light.
Mary was napping and Ed was washing dishes so Colum, Irene and myself went out to tidy up the front yard and string up the ornaments. It went a little like this:
Me: Okay, Colum, you help rake up these leaves and, Irene, you put them in this yard waste bag. I'll gather up all the sticks and twigs.
Them: By rake the leaves, you mean open up the lids of those old paint cans you never disposed of properly and roll down the hill into traffic, right?
Me: Wait. What month is it? You can't rake leaves into yard bags in December! There's no yard waste pick up in December! This is what I get for never using the front door. Crap, crap, crap. Okay, new plan. Just rake all the leaves into a pile and throw all the sticks and twigs over near the fence while I clear all the leaves from the front steps and sidewalk.
Them: Can we instead fight about whose stick that was and then move all the sticks away from the fence and strew them back all over the front lawn? You know, for kicks. And please let us roll out into traffic again. Please.
Me: No. Stop that. What? No. Fine, whatever.
Somehow, at some point, Colum thought he got the go-ahead to forget about this stupid clean up the front yard business and get on with the decorating the tree business. He brought the ball of twine and the ornaments from the front steps to the base of the tree, but the scissors and pack of ornament hooks were nowhere to be seen — at first. I did, in fact, see them eventually when I put my face right down above the gap in the wooden step. They're still there if you want to take a look because there's no way to retrieve them short of dismantling the porch.
I may have lost my cool right then. A wee bit. And Colum may have gone into the house never to return. I felt bad and apologized promptly, but he wanted to warm up anyway. So that left me and Irene. Irene and I. Did you know that threading some twine through a glittery willow ball ornament is a lot more difficult than it seems? We got three or four ornaments hung before she was also too cold to carry on.
New plan! I would fully prep all the ornaments inside and then we would return to the front yard to finish hanging them later. My god those Chinese glitter ball factories don't mess around. I got glitter all over myself, the table and chair, the children and the floor, naturally. But there was even glitter in Mary's diaper that night! And then, two days later, there was glitter on a cauliflower I was cutting up for dinner. Kid you not.
Eventually we made our way back outside. Of course, I hadn't realized that our tree is ten gazillion feet high and I couldn't actually reach any of the branches. Good thing we never cut down that mini, parasite-like tree growing out from its base. We'd just decorate the spindly branches of the parasitic tree-bush instead and make it all festive-like. Sure.
So that's what we did.
Well, that looks kind of crappy.