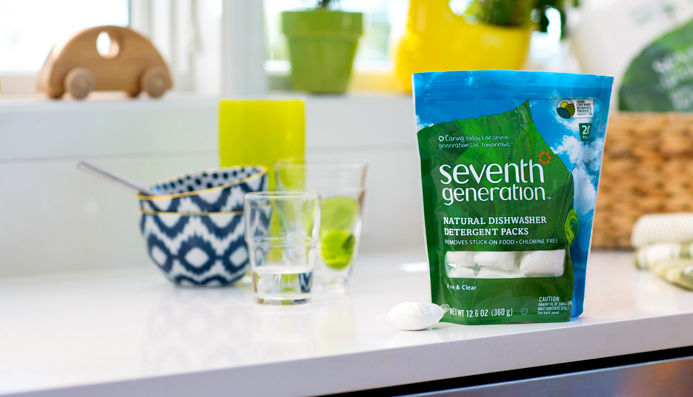 Image source: SeventhGeneration.com
I'm not an eco-nut by any stretch. I live in a world constrained by budgets and time and the fragile limits of my sanity. So I do use paper plates for kiddie birthday parties and disposable plastic freezer bags, and I don't make my own soap.
The good news is that I don't have to make my own soap to do the right thing by mother nature. Seventh Generation makes plant-based, environmentally responsible cleaning products that are free from toxins and safe for your family. They're the real deal, guys. You can trust these products.
The best part is that they really work. I've been using nothing but Seventh Generation laundry detergent for years and I love it. I also swear by their all-purpose cleaners and dish soaps. Their products are either scent-free or naturally scented with things like blue eucalyptus and lavender, or lemongrass and clementine.
I think most of us want to do whatever what we can for the earth as a whole and the environments where we live. The good news is that you don't have to go full hippie to buy responsible products for your home.
But don't take my word for it. Win your own stash of Seventh Gen products right here on this blog! I have one detox kit valued at $50 to giveaway. The kit includes:
Natural Automatic Dishwasher Gel – Free & Clear
Granite & Stone Cleaner – Mandarin Orange
Natural Laundry Stain Remover – – Free & Clear
Natural 2X Concentrated Laundry Detergent – Free & Clear
Natural Dish Liquid – Lemongrass & Clementine Zest
Cypress & Fir Toilet Bowl Cleaner
Contest ends Monday, August 11 at midnight. Canada only.
a Rafflecopter giveaway

Don't miss a post! Sign up for my weekly newsletter