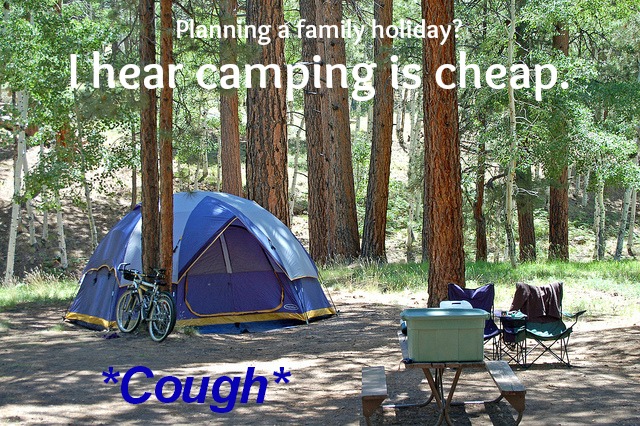 Image adapted from flickr.
It's summer. Let's go on a family holiday!
First, set your budget. I hear camping is cheap.
1. Buy a tent.
Get a tent that's big enough to fit your entire family plus your gear and that's reasonably easy to put up. (Vintage is great for dining chairs and statement hats, not so great for tents.) Cost: at least $200
2. Buy sleeping bags.
Now you CAN probably borrow the 25-year-old sleeping bags that live in your in-laws basement as long as it doesn't get too cold at night. I mean, who needs zippers anyway? All the better for your children to crawl in with you just as soon as you finally get to drift off. But you decide that it's probably a good investment for you to own your own sleeping bags at this point. So you buy the cheapest, crappiest sleeping bags you can find. Cost: $100 – $200.
3. Buy an air mattress.
"Who needs an air mattress?" says your husband. Stare that mofo down until his resolve melts into a  puddle in the middle of the camping gear aisle. Step over that puddle and pull the biggest air mattress you can find off the shelf and put it in your cart. Cost: $100
4. Buy a camp stove.
Honestly, you can probably live happily off cold sandwiches and charred marshmallows for several days. But apparently cooking on a shitty little burner is part of the camping experience. God help you if there's a fisherman in your crew. And, anyway, you absolutely cannot live without coffee. Cost: at least $100
5. Buy all the other shit you need.
Well, now you're set. You'll just run out the night before to pick up a set of camping plates and cutlery ($35), a cookware set ($45), a spare tarp and twine ($25), bug spray ($9), a basic first aid kit ($25), a proper cooler ($100) and enough food to feed your family while you live in the wilderness for four days ($150).  Cost: $389
6. Buy a goddamned minivan because there's no way in hell you can fit all that crap in your hatchback.
Buy a used one, sure, but not too used. You don't want to be stranded in the middle of nowhere. Cost: $18,000
7. Book your campsite.
Oh, you can't just pitch a tent anywhere? No. No, you cannot. Cost: $40 per night
8. Spend two nights in a tent with your family and break down and spring for the yurt instead.
What's a yurt? It's like a tent on a raised platform with actual beds inside. Still roughing it, but gently. Cost: $90 per night
$1199 (plus the cost of your minivan upgrade): The amount of money you need to save while camping before you allow yourself a proper hotel holiday again.
ENJOY YOUR HOLIDAY!
PS. I know some of you are real camping pros. What essential (or not-so-essential) camping gear am I forgetting?