Super big thanks to Wacoal for sponsoring this post and finally getting me a bra that fits right.
I rode the escalator up to the fourth floor lingerie department at Hudson's Bay and was awash in memories. The last time I'd gone to a large department store for a bra was when my mother took me downtown to Simpsons (which is actually now The Bay) to get fitted for my very first bra. My 12-year-old self died of embarrassment in the quiet elegance of those fitting rooms as an efficient saleslady ran a measuring tape around my chest, and was then resurrected in a white, cotton A-cup training bra that I could proudly flaunt in the girls changing room.
There for a bra fitting once again, as a 36-year-old mother of three, I certainly knew how important a proper bra fit is. I'd seen headline after headline warning that most women are wearing the wrong bra size. I've had friends get fitted and find out they'd been wearing bras two sizes or more too small. I knew it was true.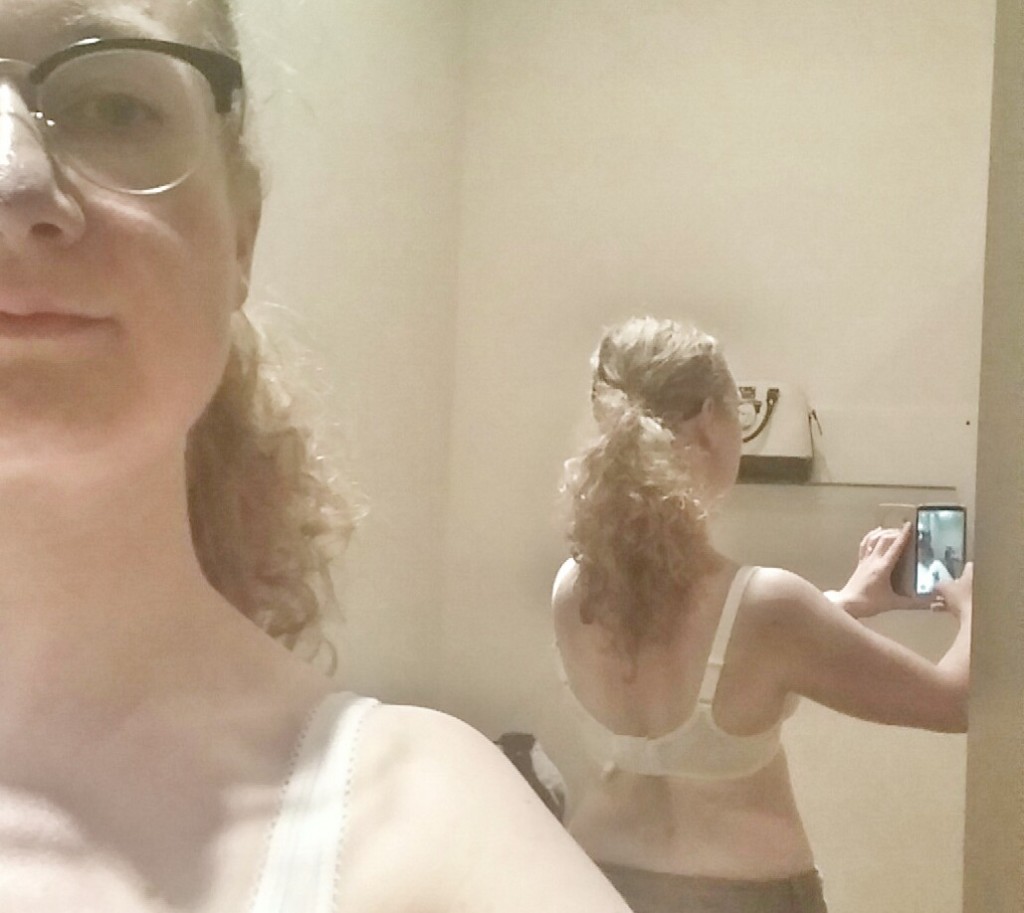 First bra, first win.
I wonder if I can take Maggie bathing suit shopping with me.
And yet there I was, going in for my second-ever fitting, 24 years after my first. It's probably because I was young enough, with small enough breasts, before I had kids that a supportive bra was never an issue.  I could grab something off the rack and as long as it kind of fit, it was fine. Then I got pregnant and was busting out of my 32B cups by the end of my first trimester. My the time my milk was fully in, I was more-than-filling a 36DD nursing bra. I had bright red stretch marks on both breasts, spreading out from my nipples like angry rays of sunshine. Then, slowly, as those first, milk-full weeks passed, and then as my baby ate more and more solids and nursed less frequently, and then finally weaned, my breasts got smaller and smaller. As did the rest of me, to be honest.
I repeated that cycle three times in about seven years, my breasts like tired old water balloons. I didn't want to get fitted at a boutique store and spend good money on a bra that might only fit for a couple months. And even after I weaned my last baby *ahem* two years ago, I didn't want to know my real bra size because I was about to drop a quick 20 pounds ANY MINUTE NOW. It would simply be irresponsible to lay out real money for a bra when I was clearly about to lose all that weight just as soon as I could find the time to workout, probably tomorrow. So I made do by guesstimating at my bra size and pulling crappy, ill-fitting bras off the rack. That was about to change.

Maggie Hess won me over right away. Warmth, enthusiasm, and expertise radiated from her petite, five-foot frame. She's a Wacoal consultant who works out of several Hudson's Bay locations in the GTA, fitting women for the perfect bra and winning over a host of loyal clients. She had me take off my shirt and then measured me around the outside of my bra. I'm not surprised she used to be a dressmaker; she's so deft with that measuring tape. I told her I was looking for an everyday bra, something in a nude, probably. (But of course "nude" is only nude for a very limited range of skin tones. So Wacoal calls that colour "sand.")
Maggie returned with what she called her trial bra. If I tried on that style, she would be able to see right away what size I needed. Sure enough, Maggie took one look at me and said, this is too big. She came back with her arms laden with all kinds of bras in 32D. (It looks like even though I've lost most of the baby weight, the boobs are here to stay.)  They fit like heaven. One seamless white t-shirt bra in particular felt like I wasn't even wearing a bra. "Oh, this makes me feel ten years younger," I said. Maggie laughed. "You are young!" I told you I liked her.
There were no shortage of Wacoal bras that fit me beautifully, but what about the rest of you guys? Maggie says they carry lines that start as small as a 30 bandwidth and lines that go up to a 40H or 42DDD. They even have minimizer styles that help compress a larger bust so, yes, you can just wear a button-up shirt with out flashing half the office, thankyouverymuch.
Wacoal does not carry maternity bras, so nursing moms should wait until they're back in standard bras. But I started thinking back to that first fitting with my mom at Simpsons and how I would love to take my girls to Maggie for their first fitting. I ask Maggie if she gets girls and what kind of products Wacoal offers for them.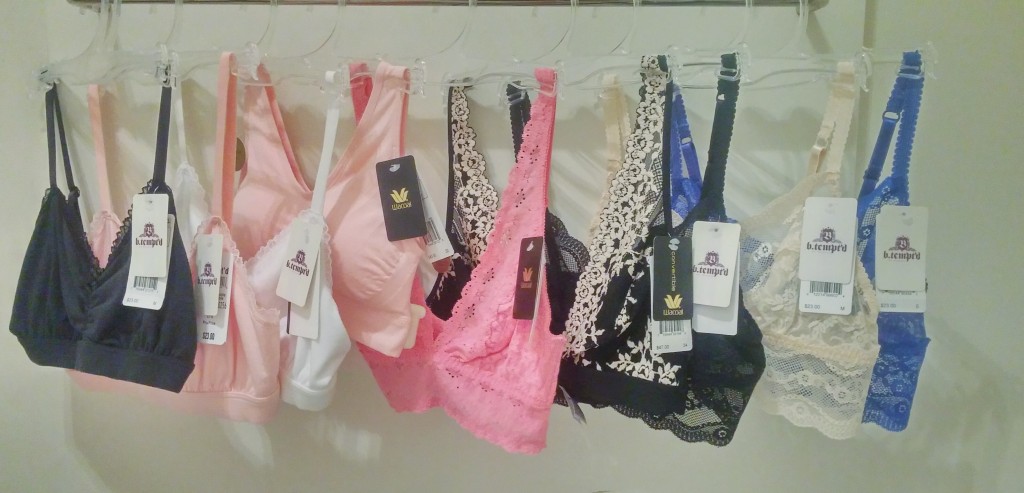 Some of the softest, little wireless styles. Those first three would be perfect for a tween girl.
Maggie came back with an armful of soft, wireless bralets. Some with the clasp in the back, just like a grown-up bra, and others with a more sporty look, depending on what kind of girl you have. "It's so important to get a proper fitting from a young age," Maggie says. "I've seen girls who might be slight, but already have developed large breasts and what they are wearing is giving them no support."
I learned that all the support comes from the band. If your band is too loose, you will feel strain on shoulders. You should not be able to fit more than two fingers under the back of your bra band. Just like you wouldn't dream of buying a pair of shoes without trying them on, you should always try on bras. Not all makes are sized the same. I tried one Wacoal bra, for example, that was designed for a younger woman and needed to move up to a 34C even though I fit a 32D for most of the other Wacoal bras I tried. And nothing is permanent. As we age, gain or loose weight, have babies, and otherwise go through different life stages, our bra size can change. It's good practice to get fit once a year, just to be sure.
So what did I wind up walking out with? Not the seamless t-shirt bra I came in for. Somehow, Maggie knew that this was what I really wanted after all.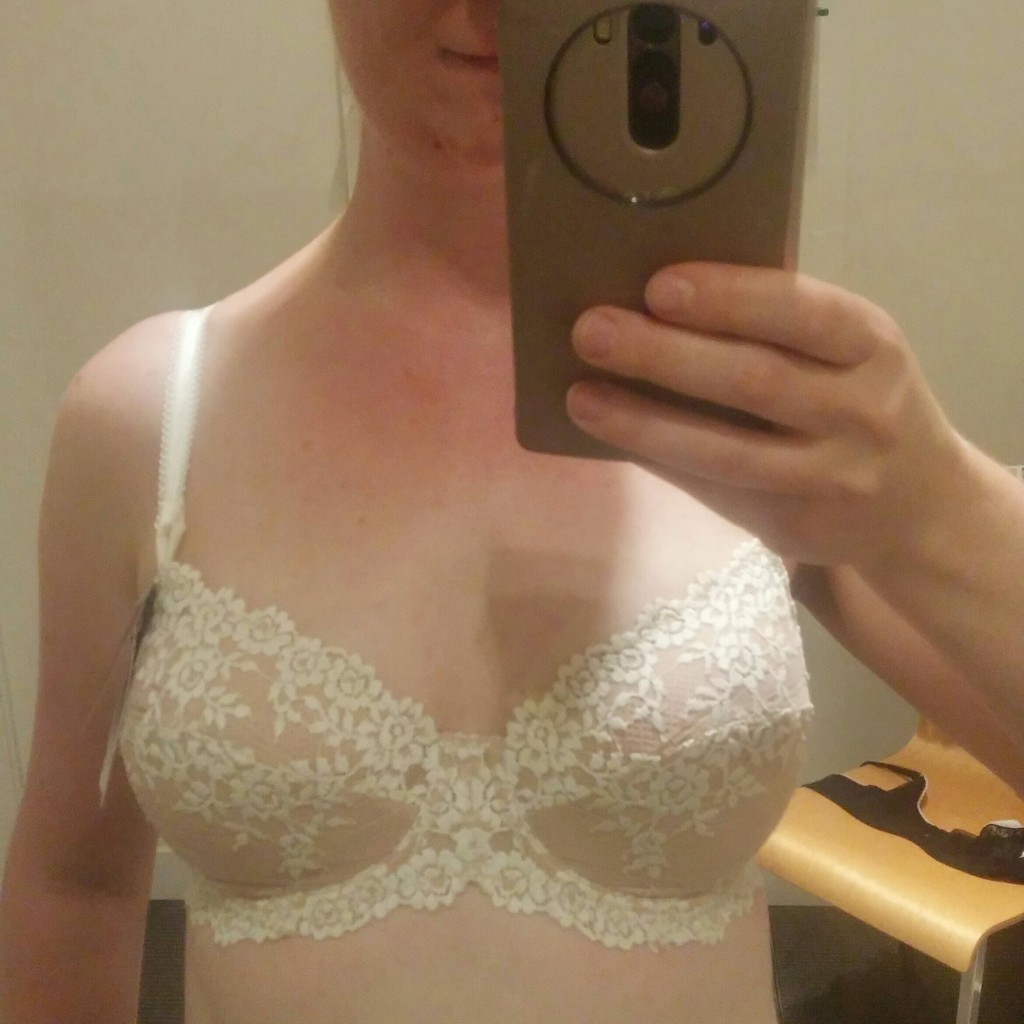 Now, that's not my grandmother's bra.
This post was generously sponsored by Wacoal. If you live in the GTA, you can make an appointment to see Maggie by contacting you local Hudson's Bay. Wacoal is sold exclusively at Hudson's Bay in Canada and on thebay.com.