This is the second in a three-part series about helicopter parenting and back-to-school tech shopping that I'm writing as Best Buy Canada's parenting spokesperson. What does helicopter parenting have to do with back-to-school shopping anyway?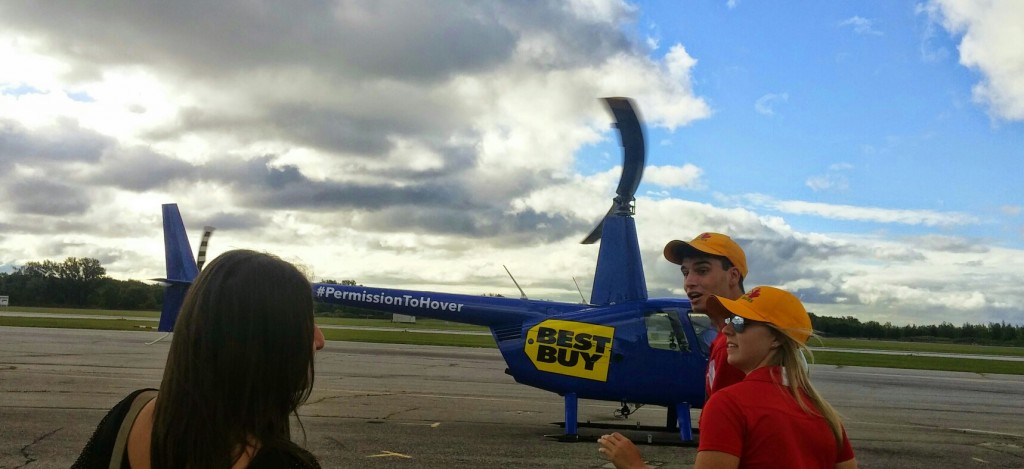 I think the truth is that we're all a little helicopter. Even the most laid-back parents among us have something we like to have control over. For some of us, it's food. Run all around the neighbourhood, but you WILL eat those vegetables. Safety is a huge one, of course. Families who have a cottage on a lake will have strict water safety rules you don't want to mess with.
For me, the two areas I need to hover over are city traffic and technology. I will be crossing busy streets with my kids until they hit double digits and there's no promise I'll stop then. Drivers be crazy!
And, of course, technology is just a huge area of worry and confusion for most parents. We're totally scared of it.
For one, the tech world won't stay still. Tablets were getting smaller and then phones started getting bigger and laptops got lighter and you can still buy an e-reader just for books. How many gigahertzes do we need? What's a Pentium? And why are we keeping things in clouds?
Of course, your kid isn't intimidated by any of that tech jargon, is he? Most kids are more than happy to tell you exactly what they think they need. And just like anything they claim to really need, chances are pretty good it's actually just something they want. Sure, you need new running shoes. But no, they don't actually need to be Nike Air Max.
But unlike shoes or, say, a winter coat, it's harder for parents to put they're foot down and say this is all you actually need. Because we don't really know, do we? And if our children need this technology to set them up for success at school, we don't want to mess with that. So what happens is we often wind up listening to the kids and simply getting them whatever they say they need.
Listening to our children is a good thing. Dropping untold hundreds of dollars on a piece of technology without finding out for yourself whether it was really the best choice for your child and your family is not so good. And that is why Best Buy wants to give parents permission to hover right now.
When you go into Best Buy to shop for a new laptop, tablet, printer, phone case, fitness tracker, video camera or whatever it is you need, the staff are there to help you make sure you make the smart choice. You shouldn't completely disregard what your child thinks she needs — she may be right — but you should probably talk to someone who is actually an expert on all the different makes and models that are available. (At Best Buy they carry all the different brands and don't work on commission, so you really are getting impartial advice.)
Because it's not just about deciding between a laptop and a tablet. (Which is totally hard enough, by the way! Do we really need to have both? Why do we have to choose between portability and functionality?) As our kids get older, their interests are going to be supported by different kinds of technology than some of their friends have. Is your kid into graphic design? Programming? Documentary film making? High-performance athletics? Or maybe you really just need a solid machine for the home for internet research and word processing and that is all for this year, thankyouverymuch. Whatever the case, front line staff will have the expertise to recommend the best product for your money.
Best Buy also has the Geek Squad, a team of specialized tech experts, who you can hire for any trouble shooting from set up to viruses down the lane. Seriously, you might even want to bring last year's sluggish laptop to the Geek Squad counter to find out if they get it working better before deciding to buy a new one. It's not always about buying a brand new product.
When it comes down to it, we are talking about spending significant amounts of money on our children's education. Of course parents want to hover. There's nothing wrong with that.
Big thanks again to Best Buy Canada for bringing me on board. Last week I gushed about my experience in an actual helicopter over Toronto. Next week I'll be highlighting my favourite tech picks for this back-to-school season.