I truly don't believe in forcing kids to do things they don't want to do.
"Get your boots on, sweetie, it's time for your hockey game."
"But I don't want to go. I HATE HOCKEY. NO, NO, NO!"
"Get your boots on and get in the car and I don't want to hear another word about it. Do you know how much money this costs?"
I look at other parents sometimes and wonder who they're really doing all this for. Who's dream is this? Because it certainly doesn't seem to be their child's.
"Okay, honey. Hurry up and eat your dinner because you've got to go straight out to t-ball practice after."
"I don't wannnnaaa go."
"I know you say that now, sweet heart, but remember how much fun you had last time?"
"No, NO, NO! YOU CAN'T FORCE ME. I HATE THIS STUPID TEAM."
"Your father is spending time and energy coaching this team and he is doing it for you. He is counting on you. Your teammates are counting on. Get. In. The. Car."
I think it's important that we listen to our children and respect their personal agency. There's nothing to be gained from forcing a child to do an extracurricular she hates.
So I guess I'm a liar. Or, you know, real life is messy and full of contradictions. I do think it's important that we listen to our kids and give them the power to make some choices for themselves. But we also know our kids and see that sometimes, for some kids, a gentle shove (or a full-on screaming match, whatevs) is exactly what they need.
Because for a long time my daughter never wanted to go any practices or games. She was happy to be signed up and to shop for equipment, of course, but actually leave the house and go? No way. Unh uh. Not going to happen without a fight.
But she did love playing. The girl thrives on physical competition. You could see it in her face. You could feel the pure joy radiating out from beneath her pink hockey helmet; it would shine through her face mask, through the glass, and warm you right through as you sat watching in those ice cold stands.
So what was it then? If it wasn't the actual sport. Part of it could be laziness, sure. Who does want to get up first thing on a Sunday morning? But the truth — and the reason I insisted she keep playing — is that her reluctance stemmed from insecurities. She was afraid she wouldn't know what to do. She was afraid she wouldn't be any good. (The girl plays to win.) She was afraid she was a girl playing a boy's sport.
She was afraid, basically.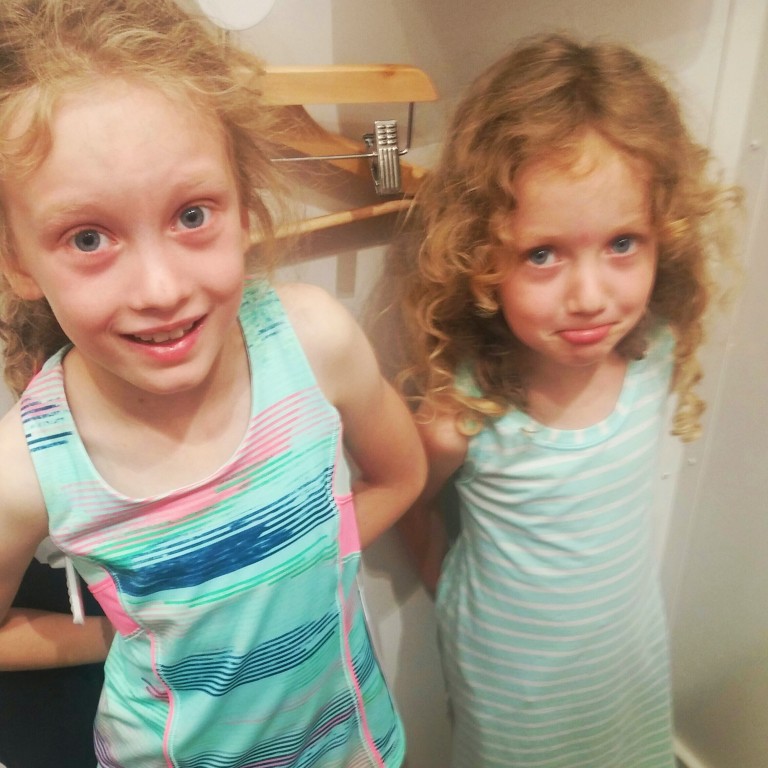 Loving the clothes. Hating the camera.
A couple weeks ago, we attended a media event hosted by ivvivva (lululemon's girls's line). And while it was absolutely fun to shop for clothes for my girls, and even though I loved the amazing clothes that are designed to move and breathe and support young women while they go after their dreams, that wasn't what I loved the most. What surprised and impressed me most was how much my seven-year-old daughter got out of the inspiring talk by Olympic skier and medalist, Allison Forsyth, a workshop on her dreams and inspirations, and the in-store dance lesson. (You can check with a  location near you to see what free in-store classes they have coming up.)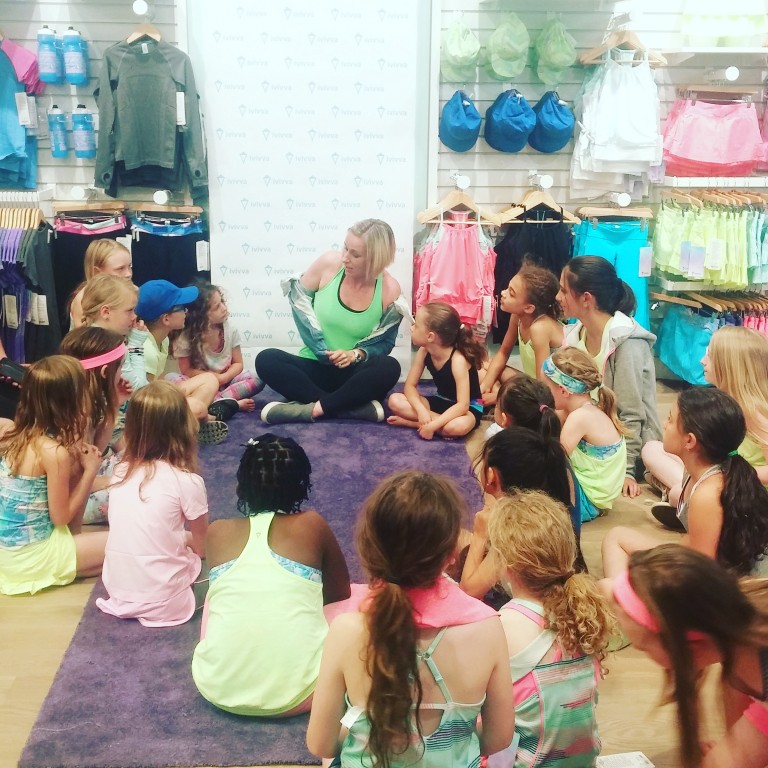 Olympic medalist Allison Forsyth inpsires the girls
My daughter is a kick-ass, driven, athletic competitor, but she needs that extra encouragement. Her confidence still needs nurturing. And she craves community and belonging.
This should really be no surprise. Because this baseball season we haven't gotten into a single argument. She runs upstairs to get into her uniform. She's the first one out the door in cleats and a glove. She's the one nagging her older brother over and over again to go out and play catch. She beams with pride when she talks about her throwing arm.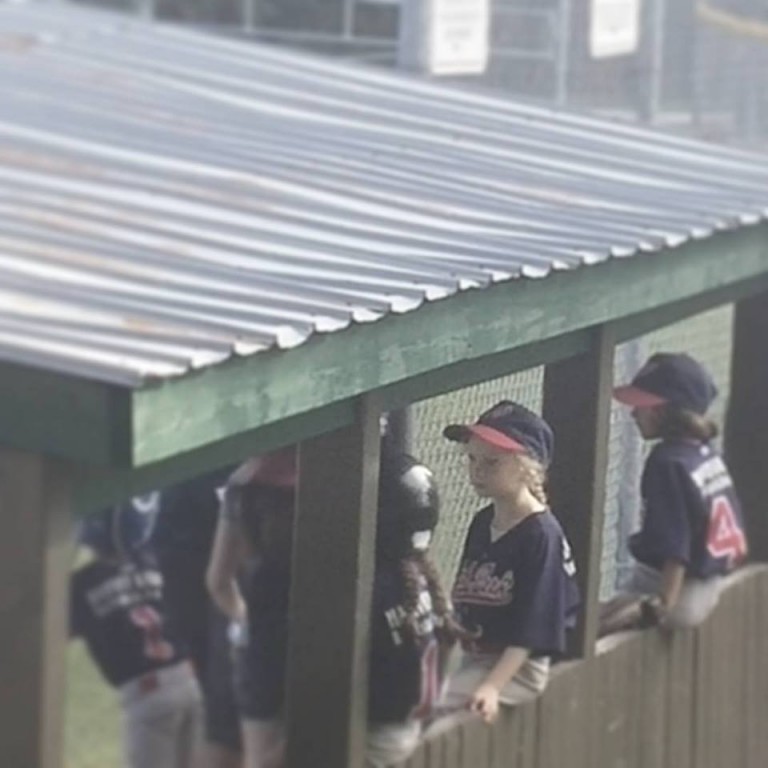 Cheering on their teammates from the dugout.
This is because she has found the encouragement, coaching and community she needed with the High Park Diamonds, an all-girls t-ball rep team that competes in tournaments in Southern Ontario and love nothing more than showing a team full of boys what it means to play like a girl. Being on this team has transformed her attitude about sports in general. She loves playing on her co-ed house league teams too now. And, to my surprise, has made me a huge advocate of girls teams and girls leagues in sports.
We're all trying to raise confident girls here. And that is something worth fighting for.