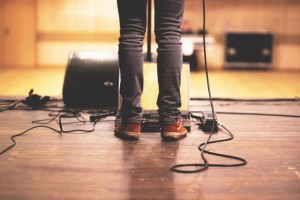 Whenever we're in the car and flipping through radio stations, my seven-year-old daughter will diligently scream out from the third row, "NO! NO! CHANGE IT!" She insists we keep scanning until we find a "girl song." And that's fine because she's a seven-year-old girl and why shouldn't she listen to female artists if that's what she likes? Of course, the "girl song" invariably happens to be a top-40 pop hit and, more often than not, it's Taylor Swift. And that's fine, too. How edgy do you need to be at seven, anyway? Give a girl some space to grow.
Still, I would not be doing my music-loving maternal duty if I did not at least expose my children to music beyond top-40 radio.  And I do try, but life's a scramble and it's hard to find the time to sit people down to listen to music. Then I realized that we are planning an epic road trip and all my kids will be strapped into a vehicle driving 100+km per hour down the freeway and they will be completely at my mercy. Is it girl songs you want? Oh, well, then it is girl songs you shall get.
I started putting together lists of female artists: women in rock, women in hip hop, Motown, singer/songwriters. But I knew I must be forgetting some. So I took my project to Facebook and asked my friends who I should include on this all-girls road-trip playlist.
My friends did not let me down. They chimed in with 115 comments and well over 200 wildly diverse and exciting suggestions. I decided I needed to make one giant, inclusive playlist that would encompass songs from all of these artists. I also decided that I couldn't keep it to myself.
"Guess what, honey? I am putting together a giant playlist composed of all female singers and musicians!" I said.
(Side eyes.)
"Does it have Taylor Swift and Katy Perry on it?"
Fine. So, here you have it. THE EPIC ROAD-TRIP PLAYLIST made of 244 artists who are not Taylor Swift (and one who is.)
* Note that this is an inclusive playlist that has not been vetted for "appropriate" lyrics and subject matter. In fact, I can GUARANTEE THAT YOU WILL find explicit lyrics in many of these artists' songs. If you are not up for discussing language and subject matter with your children as it arises, then proceed with caution.
**I have gone through and quickly noted the "genre" of music beside each artist as suggested by a google search. This is rough and not always entirely descriptive, but it can help you try to put together other smaller, more manageable playlists based on genre if you wish.
Here is the link to the public playlist I made on Google Music.
Below is an alphabetical list of the artists.
Aaliyah (contemporary R&B, pop)
Adele (pop, soul)
Alabama Shakes (blues rock, southern rock)
Alvvays (indie pop)
Tori Amos (alternative rock, piano rock)
Fiona Apple (alternative rock, art pop)
Jann Arden (pop rock)
India Arie (soul, neo soul)
Joan Armatrading (rock, pop)
The B-52's (new wave, post punk)
Erykah Badu (neo soul, contemporary R&B)
The Bangles (pop rock, pop)
Sara Bareilles (pop, soul)
Pat Benatar (rock, hard rock)
Beyonce (contemporary R&B, pop)
Bikini Kill (punk rock, riot grrrl)
Bjork (electronic experimental art pop, avant-garde trip hop)
Jully Black (contemporary R&B, soul)
Mary J Blige (soul, hip hop)
Blondie (new wave, punk rock)
Tracy Bonham (alternative rock, post grunge)
Braids (indie rock, art rock)
Breeders (alternative rock)
Meredith Brooks (alternative rock)
Basia Bulat (folk)
Kate Bush (art pop, art rock)
Le Butcherettes (punk rock, garage rock)
Colbie Caillat (folk rock, pop rock)
Maria Callas (classical, opera)
Alessia Cara (contemporary R&B, pop)
Cardigans (alternative rock, pop rock)
Mariah Carey (contemporary R&B, pop)
Brandi Carlile (alternative country, folk rock)
Belinda Carlisle/The Go-Go's (pop rock, new wave)
Mary Chapin Carpenter (americana, country)
Neko Case/The New Pornographers (indie rock, alternative country)
Jennifer Castle (folk)
Catatonia (alternative rock, indie rock)
Tracy Chapman (folk, blues rock)
Neneh Cherry (hip hop, trip hop)
Chvrches (synthpop, indie rock)
Kelly Clarkson (pop, pop rock)
Patsy Cline (Nashville sound, country)
Holly Cole (jazz)
Paula Cole (adult contemporary)
Lynn Collins (funk, soul)
Shawn Colvin (new folk, singer-songwriter)
Concrete Blonde (alternative rock)
Couer de Pirate (indie pop, sings in French)
Cowboy Junkies (americana, alt-country)
Deborah Cox (contemporary R&B, dance)
The Cranberries (alternative rock, celtic rock)
Sheryl Crow (pop, rock)
Lori Cullen (pop)
Dalbello (rock, hard rock)
Brody Dalle/The Distillers (punk rock, alternative rock)
Danielle Ate The Sandwich (folk)
Zooey Deschanel/She & Him (pop, folk)
Lana del Rey (baroque pop, dream pop)
Des'ree (soul, dance)
Hazel Dickens (bluegrass, folk)
Dido (pop)
Ani DiFranco (folk rock, alternative rock)
Celine Dion (pop)
Disappear Fear (indie folk, indie pop)
Dixie Chicks/Court Yard Hounds (country, pop, folk)
Dragonette (synthpop, new wave)
Stacey Earle (country, rock)
Elastica (britpop, alternative rock)
Missy Elliot (hip hop, contemporary R&B)
Enya (new age, celtic)
Erase Errata (post-punk revival, alternative rock)
ESG (no wave, post punk)
Melissa Etheridge (heartland rock, roots rock)
Evanescence (rock)
Kellylee Evans (jazz, soul)
Cesaria Evora (morna, coladeira, sang in Kriolu)
Marianne Faithfull (rock, folk)
Feist/Broken Social Scene (indie rock, indie pop)
A Fine Frenzy (pop/rock)
First Aid Kit (folk, indie folk)
Ella Fitzgerald (swing, bebop)
Roberta Flack (jazz, folk)
Florence + the Machine (indie rock, indie pop)
Frazy Ford/The Be Good Tanyas (folk, soul)
Aretha Franklin (gospel, R&B)
Nelly Furtado (pop, folk)
Lady Gaga (electropop, dance-pop)
Garbage (alternative rock, electronics in rock)
Melody Gardot (jazz, acoustic)
Selena Gomez (dance-pop)
Gossip (indie rock, dance-rock)
Macy Gray (contemporary R&B, soul)
Skylar Grey (pop)
Grimes (synthpop, art pop)
Emm Gryner (pop, alternative rock)
The G.T.O.'s (pop/rock)
Haim (indie rock, soft rock)
Sarah Harmer (folk, pop/rock)
Emmylou Harris (folk, country rock)
Beth Hart (blues rock, jazz fusion)
PJ Harvey (alternative rock, punk blues)
Heart (rock, folk rock)
Missy Higgins (pop, independent)
Faith Hill (country, country pop)
Lauryn Hill/Fugees (contemporary R&B, hip hop)
Hole (alternative rock, grunge)
Billie Holiday (vocal jazz, jazz blues)
Whitney Houston (contemporary R&B, pop)
Chrissie Hynde/Pretenders (rock, new wave)
Indigo Girls (folk rock)
Janet Jackson (pop, R&B)
Luscious Jackson (alternative rock, alternative hip hop)
Etta James (blues, R&B)
Joan Jett/Joan Jett & the Blackhearts/The Runaways (rock, hard rock)
Jewel (pop, folk)
Grace Jones (electronica, disco)
Norah Jones (jazz, blue-eyed soul)
Janis Joplin/Big Brother and the Holding Company (psychedelic rock, blues rock)
Alicia Keys (contemporary R&B, soul)
Kimbra (pop, jazz)
Carole King (pop, soft rock)
Gladys Knight and the Pips/Marvelettes (rhythm and blues, funk)
Diana Krall (jazz, traditional pop)
Chantal Kreviazuk (adult contemporary)
L7 (grunge, hard rock)
Lianne La Havas (soul, folk)
Miranda Lambert/Pistol Annies (country)
k.d. Lang (country, pop)
Queen Latifah (hip hop, jazz)
Cyndi Lauper (pop, rock)
Annie Lennox/Eurythmics (new wave, pop rock)
Lhasa (folk, world)
Lights (pop/rock)
Lisa Loeb (contemporary folk/rock)
Jennifer Lopez (contemporary R&B, pop)
Lorde (art pop, dream pop)
Lura (morna, world)
Lush (brit pop, dream pop)
Loretta Lynn (country, honky-tonk)
Stevie Nicks/Fleetwood Mac (pop rock, soft rock)
Made In Heights (elctro-pop)
Madonna (pop, dance)
Miriam Makeba (marabi, world)
Zap Mama (world)
Amiee Mann (rock, folk)
Anya Marina (indie rock, indie pop)
Amanda Marshall (soft rock, rhythm and blues)
Mazzy Star (alternative rock, dream pop)
Martina McBride (country, country pop)
Sarah McLaughlin (pop, rock)
Natalie Merchant/10,000 Maniacs (alternative rock, pop)
Metric (indie rock, new wave)
M.I.A. (hip hop, electronic)
Ingrid Michaelson (indie pop, indie folk)
Joni Mitchell (folk, rock)
Janelle Monae (psychedelic soul, contemporary R&B)
Monica (contemporary R&B, hip hop)
Morcheeba (trip hop, electronica)
Alanis Morissette (alternative rock, post-grunge)
Roisin Murphy (electronic, art pop)
Laura Mvula (pop, contemporary R&B)
My Brightest Diamond (indie rock, baroque pop)
Mýa (contemporary R&B, hip hop)
Meg Myers (alternative rock, pop rock)
Alannah Myles (rock, pop)
Bif Naked (rock, pop)
Meshell Ndegeocello (neo soul, contemporary R&B)
Noisettes (indie rock, pop)
Laura Nyro (rhythm and blues, pop)
Sinead O'Connor (alternative rock, pop rock)
Mary Margaret O'Hara (rock)
Lindi Ortega (country)
Beth Orton (folktronica, folk)
Joan Osborne (rock, folk)
Paramore (alternative rock, pop punk)
Dolly Parton (country, country pop)
Dawn Penn (reggae, rocksteady)
Katy Perry (pop/rock)
Madeleine Peyroux (jazz, blues)
Liz Phair (alternative rock, indie rock)
Edith Piaf (cabaret, torch songs, French)
Pink (pop/rock, contemporary R&B)
The Plasmatics (punk rock, heavy metal)
Poe (alternative rock, pop rock)
Pomplamoose (indie pop, indie electoronic)
Carole Pope/Rough Trade (rock)
Portishead (trip hop, experimental rock)
Cat Power (indie rock, folk rock)
The Pretty Reckless (hard rock, post grunge)
Bonnie Raitt (blues, country)
Helen Reddy (pop, easy listening)
Martha Reeves and the Vandellas (rhythm and blues, soul)
Jenni Rivera (banda, latin pop)
The Ronettes (rhythm and blues, pop)
Diana Ross & The Supremes (soul, rhythm and blues)
Serena Ryder (pop/rock)
Sade (soul, smooth jazz)
Santigold (electronic)
Salt-N-Pepa (hip hop, dance)
Jill Scott (soul, neo soul)
Shakira (pop, latin pop)
Sia (pop, electropop)
Jane Siberry (alternative pop)
Carly Simon (pop rock, soft rock)
Nina Simone (rhythm and blues, jazz)
Nancy Sinatra (rock, pop)
Siouxsie and the Banshees (post punk, gothic rock)
Mavis Staples/The Staples Sisters (rhythm and blues, soul)
Sarah Slean (rock)
Sleater-Kinney (punk rock, indie rock)
Bessie Smith (blues, jazz blues)
Patti Smith (punk rock, art punk)
Meghan Smith (folk, jazz, pop)
Jill Sobule (folk rock, indie rock)
Solange (R&B, funk)
Sonic Youth (noise rock, alternative rock)
Esperanza Spalding (jazz, jazz fusion)
Cold Specks (soul, gothic rock)
Regina Spektor (anit-folk)
Dusty Springfield (pop, rhythm and blues)
Buffy Sainte-Marie (folk)
Gwen Stefani/No Doubt (pop, ska punk)
Sugarland (country)
Taylor Swift (country, pop)
Teenage Jesus and the Jerks (no wave)
Tegan and Sara (indie pop, indie folk)
Rosie Thomas (alternative rock, indie folk)
Le Tigre (electroclash, dance punk)
The Ting Tings (indie pop, indie rock)
TLC (contemporary R&B, pop)
Tina Turner (pop rock, contemporary R&B)
Shania Twain (country, country pop)
Sarah Vaughn (vocal jazz, bebop)
Suzanne Vega (alternative rock, folk rock)
Crash Vegas (folk rock)
Veruca Salt (alternative rock, grunge)
Martha Wainwright (folk, pop)
Weepies (indie, folk rock)
Dar Williams (folk, folk pop)
Lucinda Williams (americana, folk rock)
Amy Winehouse (soul, neo soul)
Womack & Womack (contemporary R&B, soul)
Nikki Yanofsky (jazz, pop)
Yeah Yeah Yeahs (garage punk, indie rock)
Yo La Tengo (indie rock, noise pop)