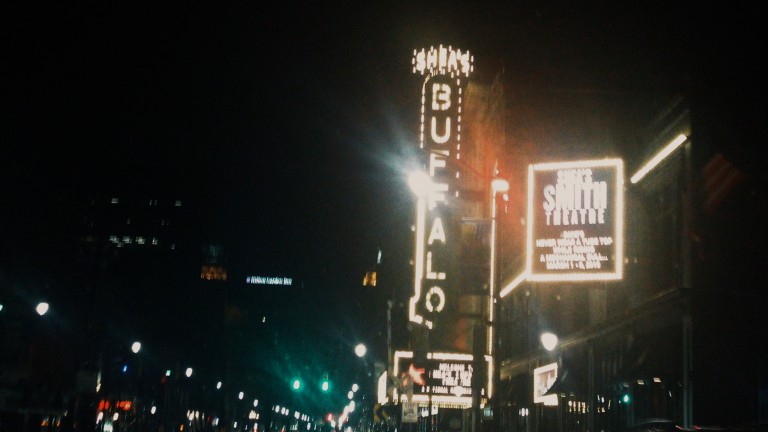 Buffalo, New York has your holiday road trip needs covered. And no, I am not even kidding.
Who can afford to travel during the holidays? You just maxed out your cards on gifts, price surging is everywhere, and there's a good chance if you do travel it will be back to your hometown. But, but, but! How often does the entire family get a few days off school and work at the same time? And, well, I just wanna go … somewhere.
Enter the semi-local overnighter. (Yes, I did just make that term up. Roll with it.) The semi-local overnighter is not a staycation. You do leave town, but just to a neighbouring city or region. And it's called an overnighter because you only stay for one or two nights. If you didn't have kids, these trips would be an easy one night getaway. With kids, I find the hassle of unloading everyone and their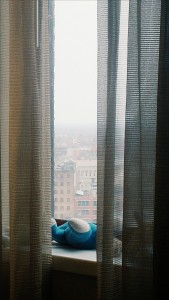 luggage and dragging it up to a hotel room really merits two nights.
So last December we packed our three kids and way too many stuffed animals (lesson learned) into our brand new minivan and made the first of what we hope will be countless road trips in our new family vehicle. We left later than hoped, as always, but were still chock full of excited anticipation. We had just barely cleared the Greater Toronto Area when voices from the back started to call out, "Are we almost there yet? Can we stop? I'm hungry. I'm thirsty. I need to pee."
I looked at Ed. First of many road trips, huh? That's the plan? But the kids settled in and within a couple hours we were pulling up the Hyatt Regency Buffalo. So swanky! Booked on Hotwire! The lobby was beautiful, the room was spacious, and it has a pool. (Always book the place with a pool when possible.) Score.
Why Buffalo?
If you grew up in Toronto in the 70s and 80s you will have learned a lot about the city from Buffalo TV stations. They love their Bills and their Sabres, have massive snow storms, and suffer from a disproportionate number of house fires. Channel 2 is "On your side." Buffalo also has a couple outlet malls where people liked to find bargains when the Canadian dollar is strong. And, of course, there are the chicken wings.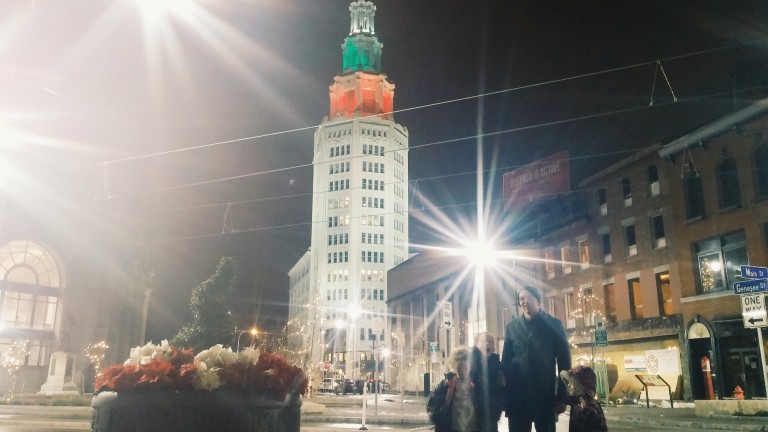 But there's so much more! Buffalo, New York was a thriving metropolis in the first half of the 20th century; a shipping and transportation hub and industrial powerhouse. It was home to a diverse population of more than half a million people, large mansions, early skyscrapers, and beautiful Art Deco buildings. With the loss of manufacturing jobs, Buffalo's economy has struggled, but it is still a centre for medical research and life sciences, home to banking headquarters, and is undergoing a bit of an urban revival. Most importantly for us tourists, the architecture remains.
Family To Do
Wander around downtown to admire the stately skyscrapers and institutional giants of yore. Then wander through the Allentown and Elmwood Village neighbourhoods to soak up their urban charm and visit cafes, bars, restaurants, and shops.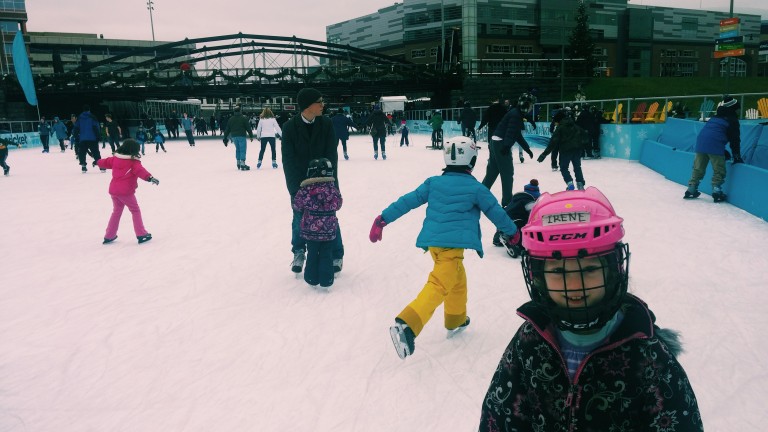 Go ice skating at Buffalo's revitalized waterfront attraction, Canalside. It's a 35,000 square foot outdoor ice rink on the banks of the Eerie Canal and we had a lot of fun on all that ice. I can't even keep up with the bigger kids anymore. Skate rental is available (but we brought our own. So Canadian.) You do have to buy inexpensive tickets to skate and the ice surface is pretty rough which made me appreciate what we have in Toronto. (There are tons of free outdoor rinks that are impeccably maintained in TO.) But it was still a blast. Note that there's a one-line light-rail train called the Metro Rail that runs from the Erie Canal Harbor north to the university. In the downtown core (while the train is above ground), it is free to hop on and off that train. This is a great way to get to Canalside.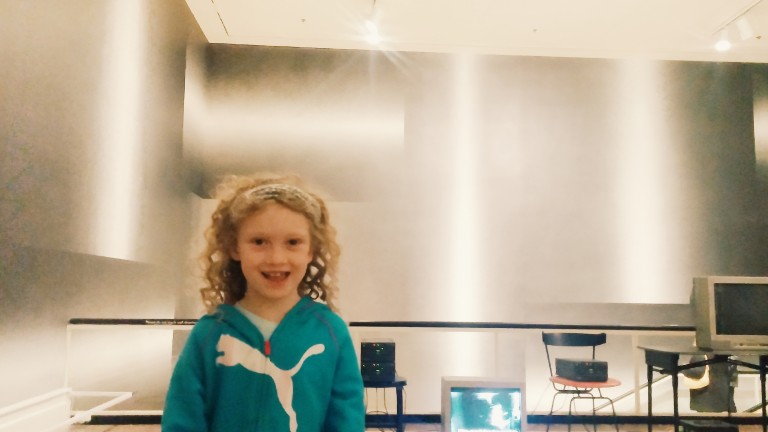 Visit the Albright-Knox Art Gallery. I love, love, love the Albright-Knox. It's a top-tier art gallery for modern and contemporary art and strolling through it's halls is such a great pleasure. It's home Frida Kahlo's Self-Portrait with Monkey and Jackson Pollock's Convergence to name a couple of my favourites. And I would love to find a way to see the Picasso: The Artist and his Models exhibition that is on until February 19, 2017. Our kids were 9, 7, and 4 when we were there and it was great. We didn't do any special family activities, but here is a link to the programs the gallery offers for kids.
And, yes, you're allowed to go shopping at the Walden Galleria, too. It's a huge mall with over 200 stores and more than a dozen restaurants. We escaped the cold and dark one evening to do some window shopping (okay, and some shopping shopping) in the Galleria. There's also an indoor playground (that we carefully kept the kids from) and a Regal Cinemas (where Ed and the kids played arcade games while I shopped).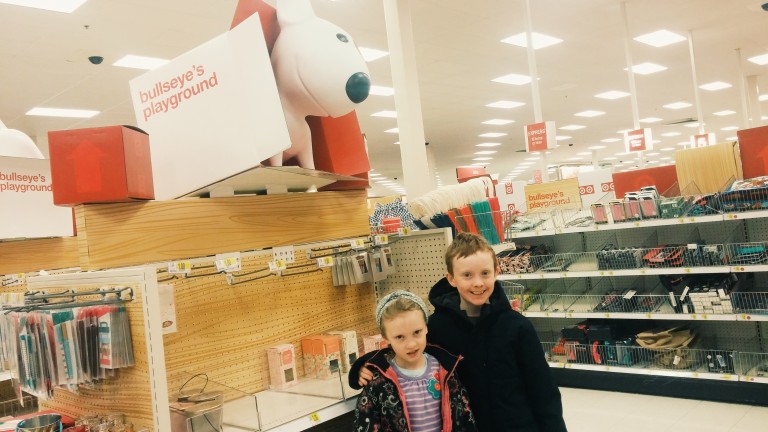 Right, so we also popped into Target. Always.
There are even more things to do that we didn't manage on our overnighter, like the Poinsettia exhibit at the Botanical Gardens and the Buffalo Science Museum. Note that Buffalo also has a theatre district with several options for live shows. Unfortunately, these seem to go on holiday after Christmas. I do have plans for a romantic dinner and show weekend getaway for when the kids are older, though. (Setting my reminder for 2030…)
Where to Eat
Meals can be a challenge on a family vacation, especially if you are a bit of a foodie like me. It's unusual for us to be able to go to top restaurants in any city because it's simply too expensive and stressful for a family of five with young kids. (The older the kids get, the less stressful but more expensive the experience becomes.) Besides, reservations for five are hard to come by! Our solution? A mix of revered local casual restaurants and local specialty street food or fast food joints.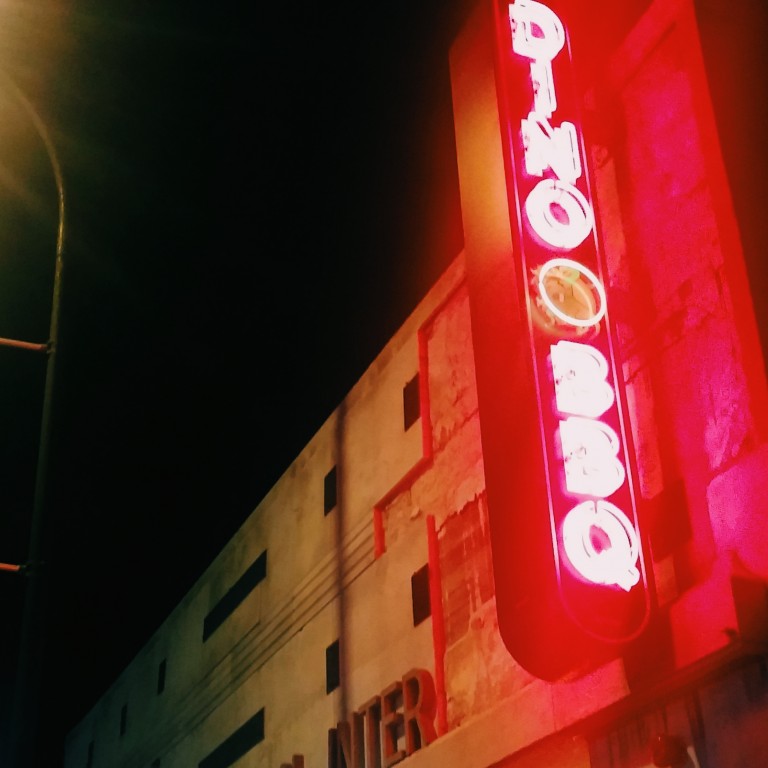 We were delighted that our hotel was in easy walking distance of Dinosaur Bar-B-Que enjoyed our first Buffalo meal there. It's actually a small franchise with a handful of locations in New York state, Connecticut, New  Jersey, and even one in Baltimore. The large dining room was hopping on a Tuesday night, with an easy-going casual vibe. The bbq itself was the perfect blend of sweet, smoky and sticky with top notch sides. The kids meal options were true to the menu, too, which is nice, and generous enough to satisfy my growing nine-year-old.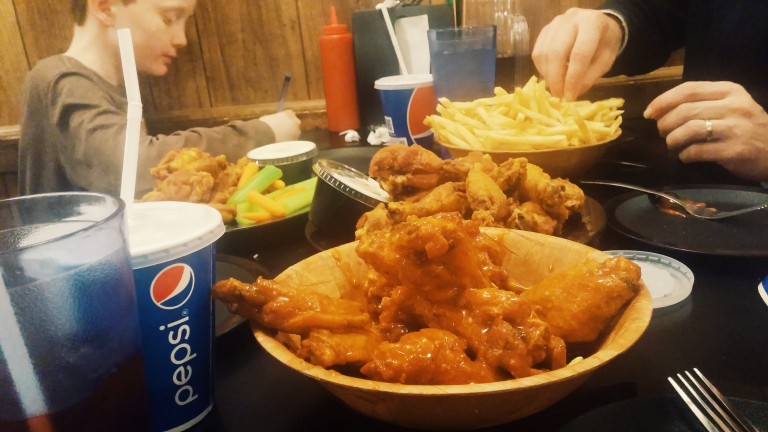 The next night we dined (or gorged is more like it) on piles of buffalo wings from Duff's, one of Buffalo's most legendary wing joints. Again, the place was hopping, even on a Wednesday and we had to wait for a table. Walking into Duff's is like stepping into a time warp. Wood paneling meets 70's style stuccoed arches and basic black tables and chairs are set up to maximize seating. The wings are among the best anywhere (but they are spicy, so go for mild or get the sauce on the side if sharing with kids) and the whole scene was a fun slice of Buffalo life.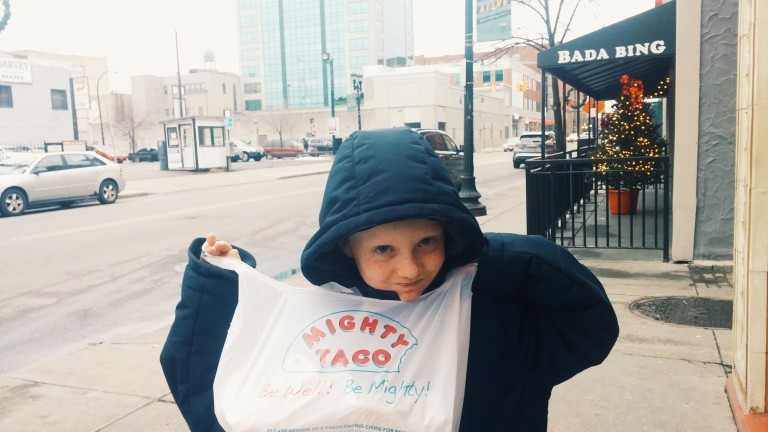 We enjoyed a big breakfast on New Year's Eve, on our way out of town, at Kosta's Family Restaurant while the staff bustled about getting ready for the night's festivities. We also sampled a couple local fast food places to get the full Buffalo experience. Ted's Hot Dog serves up tasty charcoal-grilled dogs on soft buns with quality fries and soft drinks (go for the only-in-Buffalo Loganberry drink). I couldn't resist grabbing some take out from Mighty Taco, if only to satisfy a faint memory from childhood. This Buffalo chain does Taco Bell-style tacos that are entirely forgettable at best. But, hey, sometimes you have a hankering for that crunchy shell, amiright?
One final Buffalo food note: beef on weck. I did not manage to get a good beef on weck which is a special Buffalo roast beef sandwich. It's thin slices of beef on a soft kummelweck roll, topped with horseradish and served with jus on the side for dipping and can be found at bars, taverns, restaurants or a chain called Charlie the Butcher.
Here's the Google Map I made like a giant nerd of places where we might want to eat in Buffalo. I like to have lots of options to choose from depending on where we are at meal time. (Made in December of 2015.)
Buffalo, New York is a real city with lots of history and regional character. It's worth repeated visits at any time of year, even during the winter holidays. But do take a look at the weather forecast first because mega dumpings of snow happen here.