In this week's spirit of sharing our brave "rooming house turned family home" sagas à la the Toronto Life crack house story, I thought I'd share ours. You see, just like the young family who bought a dilapidated Parkdale rooming house in 2010, we bought a ramshackle rooming house in the Junction in that very same year! Oh, the parallels. How nice to read about such kindred spirits. Except … well, I guess there are a few differences.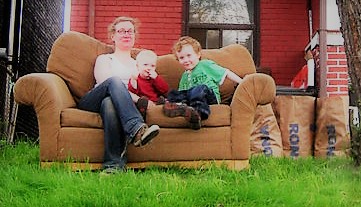 Me and our first two kids when we were "fixing up" the new house.
Lets break 'em down for kicks.
Same same
We both had to act fast. Catherine Jheon and her husband had to quickly put in an offer (before they'd even taken a good look at the house) to buy their rooming house before the owners realized what it was actually worth. We had two days to decide to outbid several others in a power-of-sale situation.
That's different!
The actual value of the fully detached 4000-square-foot Victorian house in Parkdale had a market value much higher than the $560,000 they paid for it. Our three-bedroom semi on a main street was worth no more than the meager mortgage we just barely qualified for.
Same same
The people who were living in both our houses when the sale closed were reluctant to leave.
That's different!
Jheon and her husband gave some squatters who didn't want to leave an extra two months and ultimately paid one $3000 to vacate the premises. We just told the old tenants they had to get the hell out and they left.
Same same
We both had young families and didn't want to have to live in a construction site. Jheon's son was two and she was pregnant. We had a four-year-old and one-year-old.
That's different!
Jheon and her husband sold the house they were living in which freed up $200,000 of money for renovations. When they realized they didn't want to live through the renos with a young child and another on the way, Jheon writes,"Luckily, we still owned the two-bedroom condo at King and Bathurst."
We had a total of $20,000 left on our line of credit with which to make our place liveable and one month before we had to give up our rental apartment. It was still very much a construction zone when we moved in.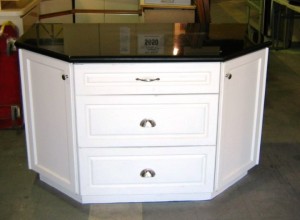 The kitchen island we found at the Habitat for Humanity ReStore for $500.
Same same
I can relate to Jheon's description of cat pee-soaked and nicotine-stained walls and general filth and grime.
That's different!
While Jheon and her husband decided to gut their entire house so that all that was left of the original was the exterior brick and front door, we mostly made do with scrubbing and painting.
They squandered hundreds of thousands of dollars on an inept contractor and were still able to finish their high-end reno thanks to a large personal loan from a generous godfather.
We definitely bought a couple cans of paint we didn't end up using (they are still in a basement closet, I'm pretty sure) and were only able to put in a kitchen on the main floor (where there had only been an empty room) thanks to some some sweet finds at the Habitat for Humanity ReStore and the hard work and expertise of my father-in-law.
They now live in a beautiful, fully renovated home with radiant in-floor heating, a custom kitchen, roomy bedrooms, walk-in closets and all the bells and whistles. We did put in our "reclaimed" kitchen and sprang for such luxury items as a new furnace, water heater and front shingles. The next lump of money we sink into this house might even go toward fixing our water pressure! So fun.
Of course, "Young family buys crappy house because that's all they can afford, paints" is not much of a story because people do this all the time. It's much more fun to gawk at rich people who foolishly waded in over their heads and became overwhelmed by the scope of the job. But, of course, that story's a lie, too, isn't it?
The plight of Jheon and her husband trying to renovate their crack home is being played out as yet another example of how the Toronto real estate market is making people reckless. They are cast as naive suckers who paid for a house sight unseen and were lucky they didn't lose their shirts in the process. The truth is that they knew exactly what they were doing, from the very first moment they had their agent friend knocking on doors to see if they could negotiate a quick sale. They didn't care what state the house was in because they planned to gut it completely all along. When the reno stalled, they moved into the fallback condo they already owned. And when all is told they ended up with a three million dollar house for a third of the price.
I mean, they could even afford to make an impulse purchase on a run-down cabin on its own private island while they were renovating that house. Maybe we'll be able to buy a piece of land next to a highway somewhere to pitch a tent. But probably not.