I have partnered with YMC and Danone and have received compensation for this post. All opinions in the post are my own.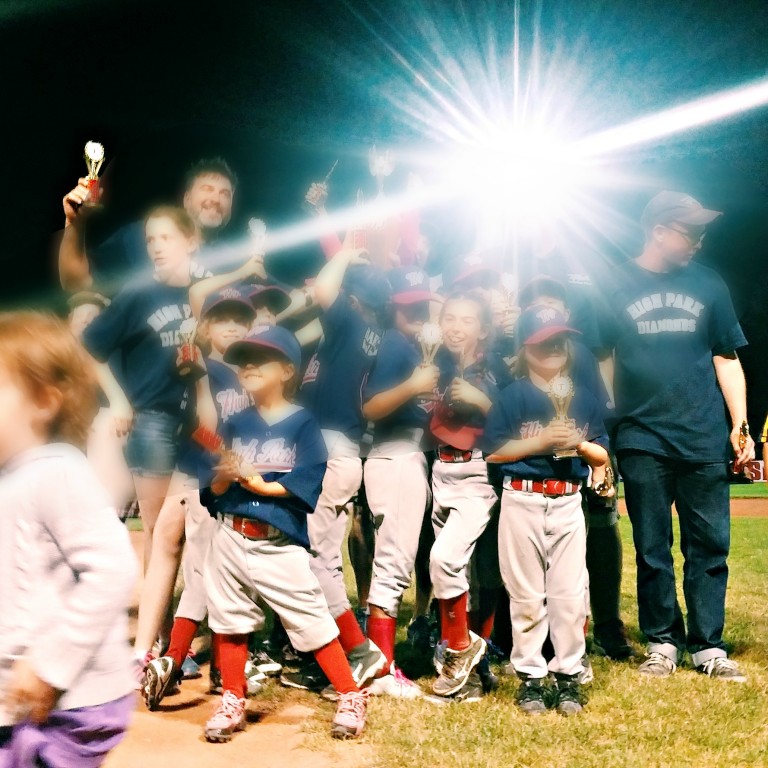 The ballpark lights blinked on in the waning daylight, the worst of the summer heat evaporating into the twilight. We scrambled to get the girls ready for the game, cleats laced up, shirts tucked into pants and hair braided. The coaches called them over for a pregame talk, and the rest of us parents packed the last of the deli meats, veggie sticks and yogurt tubes from our communal picnic dinner back into coolers.
They had announcers for this night game on the big diamond, and when they called out her name just before she stepped up to the plate I got chills. She stepped carefully up to the tee and hit the ball hard and straight down the third base line where the third baseman fumbled the play for just long enough for her to round first base and beat the throw to second.
"Extra extra, read all about it! Irene got a double and we're gonna to shout it! IRENE GOT A DOUBLE! Told you we would shout it. No doubt about it. Nana nana nana hit."
They cheer as hard as they play.
On the field these girls stare down the next batter, call out the play and stand ready. They catch fly balls in the air, field grounders, throw the ball hard and fast, and make double plays. The smallest girls play outfield, snapping up whatever gets past the infielders and throwing it back.
Back in the dugout, she pressed her nose up against the chain link enclosure. "Mommy, did you see? Did you see my hit?"
And now they are all spilling out onto the field jumping and cheering. They'd won! This wasn't the championship game for the whole tournament, but it was the game that meant the most to our girls. It was the girls championship in which the only two all-girls teams enrolled in the co-ed tournament competed for the title (and the trophey!).
It had been a showcase of skill, determination, sportsmanship and camaraderie, and we all streamed out onto the field after them—parents and players alike—grinning so hard our cheeks hurt.
The girls had already played three games earlier that day and went on to play in the actual final the next day. One frustrated parent from the other side called, "C'mon, are you going to let those girls beat you?" We took that as a compliment.
These memories from last year are flooding in as I pack up for our first tournament of this season. One daughter is playing her final year of t-ball while her little sister plays her very first as a junior member of the team, while I gently cradle the ball of emotion that all these intersecting milestones evoke.
We already know that team sports are such a great way for kids to stay healthy and active, develop healthy attitudes about winning and losing, make friends and build confidence. But I was still not prepared for the positive impact this girls rep team has had on my daughter and our entire family.
Kids sports would be financially out of reach for most families if it weren't for generous corporate sponsors that hold community involvement and active lifestyles as a core value. So I am incredibly grateful for how much Danone has done for children's soccer in Canada and internationally.
The Danone Nations Cup is the world's biggest soccer tournament for children aged 10 to 12, creating a unique opportunity for young soccer players in local communities. Soccer is great sport: it's accessible, builds skills, and develops positive attitudes related to teamwork and determination.
Canada has participated in the Danone Nations Cup for 17 years, but this year, for the first time in Canada, Danone is bringing separate boys and girls teams to the international field. (Yay!) More than 65,000 budding soccer players have tried to make Team Canada through the years and hundreds have gone on to represent Canada at the international final.
This year, the national final will be on July 6, in Boucherville, Quebec. Then, 12 girls and 12 boys will be selected to play for Team Canada at the international final in New York.
Can you imagine how that must feel? Can you imagine how their parents must feel?
Good luck to them all.
I have partnered with YMC and Danone and have received compensation for this post. All opinions in the post are my own.